Round green timber for sale and milling
Sawlogs are usually extracted as a result of annual regeneration, coppicing or thinning work. Species depend on the arranged work and site, but can include oak, ash, sweet chestnut, sycamore and a whole range of other broadleaves and conifers. Potential buyers are welcome to make contact and express an interest in roadside purchases and subsequent haulage.
Mobile milling
There is frequently round green timber suitable for on-site milling. This might be appropriate for those businesses and individuals with storage space, a trailer and who are interested in very economically priced timber from local sources. Timber may be needed for a wide range of applications, including steam bending, furniture making, joinery, beams, boat building and knees for boat and timber frame building. For use in furniture and joinery, it is known that air dried timber does not have the greater tension and varying colour differences which kiln dried timbers can have.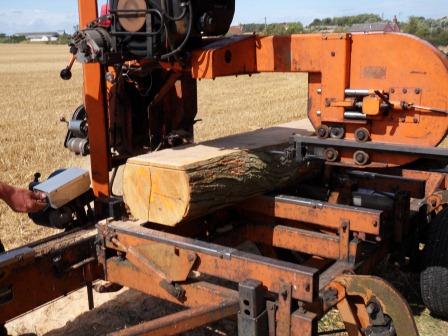 Logs for milling in the summer of 2017 will include ash, chestnut and cherry from various sites across North Essex. Full instructions as to seasoning and sticking can be given, including how to build and use a dehumidifying box following air seasoning.

Interested buyers should say how much they would like to order and for what purpose. Approximate volumes of appropriate quality round timber will be brought to the roadside site, and measured in Hoppus foot. Following purchase, the timber can remain on site awaiting conversion at the buyers risk. It will be for the buyer to arrange the milling, but contact with an appropriate miller can be arranged. Prices are expected to range between £10 - £20 per Hoppus foot and will depend on quality and species. A minimum of 50 Hoppus feet will need to be ordered. Some estates charge VAT, so this may be added depending on which estate the timber comes from.
Please contact The Forestry Office for enquiries and to place an order.

Home